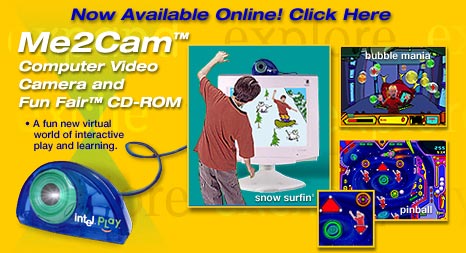 Kids have always wanted to see themselves play inside a computer game, and now they can with the Me2Cam™ Computer Video Camera and Fun Fair™ CD-ROM!

The Me2Cam™ and Fun Fair™ CD-ROM is a revolutionary new system of play that lets kids go inside the computer game and interact with a virtual world. No mouse is needed since kids will use their bodies to make things happen inside the games.

With the Fun Fair™ CD-ROM, kids will be able to race down a wacky mountain as they go Snow Surfin', play exciting body pinball, have a blast popping bubbles in Bubble Mania™, get groovy with the band in Club Tune™ and have fun morphing in the Fun Zone™!

It's a whole new way to play where kids are the stars!
A whole new fun and interactive system of play!
The child is INSIDE a virtual world!
Kids' bodies control the action in the game.
Five areas of play.
Print images of the child in action as s/he plays the game!
Great multi-level game play–easy to learn, hard to master.
Learning-rich fun!
AGES 4 AND UP
Planned availability December 1999
Me2Cam™ Computer Video Camera and Fun Fair™ CD-ROM minimum system requirements:
Windows® 98
Intel® Pentium® or Celeron™ Processor, 233MHz or faster (or equivalent)
USB port enabled
32 MB of RAM
Minimum 65MB free hard disk space
Video and sound devices that are compatible with Microsoft® DirectX® 6.1
8x or higher CD-ROM drive
640x480 display, 16-bit color
16-bit Windows® compatible sound device
Standard mouse and keyboard